防疫物资重点企业科思创:迎难而上保生产 打通"堵点"稳供应
2020-03-26 13:41:11
来源:东方网
位于上海化学工业区的科思创上海一体化基地是跨国聚合物生产企业科思创(Covestro)在德国境外最大的投资项目,面向亚太区生产聚碳酸酯、聚氨酯原材料以及涂料原材料。由于聚碳酸酯是生产护目镜、测温热像仪等防疫用品的重要原料之一,科思创基地从春节起就一直保持连续生产,利用材料专长为抗击疫情贡献力量。
As Covestro's biggest investment project beyond Germany, the Covestro Integrated Site Shanghai (CISS) at the Shanghai Chemical Industry Park mainly produces polycarbonate, polyurethane raw materials and coating raw materials for the Asia Pacific region. As polycarbonate is one of the raw materials for epidemic prevention supplies such as goggles and infrared thermal imagers, the CISS has been continuously busy since the Spring Festival this year, leveraging its own cutting-edge expertise to contribute to the fight against the epidemic.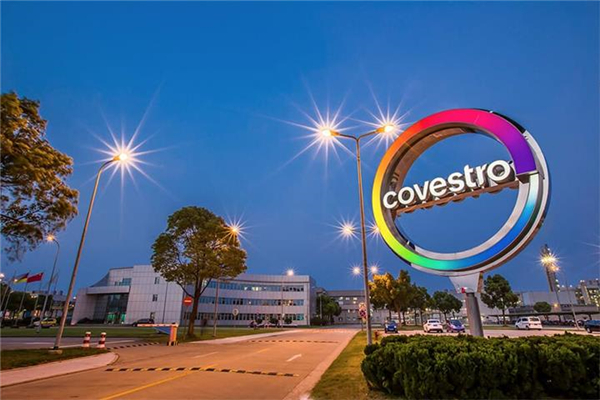 (科思创上海一体化基地 CISS)
作为"上海市防疫物资重点企业",科思创在疫情发生后就迅速增加了相关产品的产能。公司积极协调下游生产商,向全国各地抗"疫"一线机构紧急捐赠了使用自产聚碳酸酯材料制成的15万副护目镜及2000个体温计。
As a company producing key supplies for the epidemic prevention and control in Shanghai, Covestro has increased the productive capacity of some related products since the very beginning of the COVID-19 outbreak. At the same time, by coordinating with its downstream manufacturers, the company has also donated to the front line a total of 150,000 pairs of protective goggles and 2,000 thermometers made from its polycarbonate materials.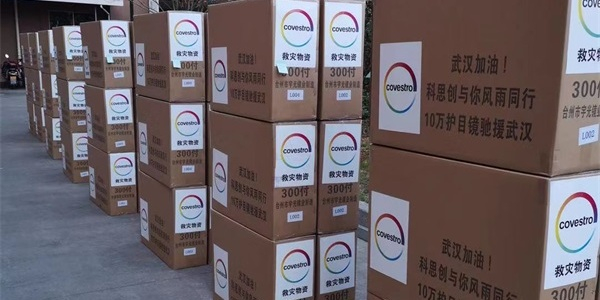 (科思创向医疗机构捐赠的护目镜Protective goggles given away to medical institutions)
在疫情形势严峻的当口,防疫设备的供应变得相当紧张。2月2日,公司收到客户海康威视的紧急订单:其生产的测温热像仪作为防疫急需物资,需用到科思创的聚碳酸酯和热塑性聚氨酯材料。科思创不同部门同事紧急协调,在4个小时内完成了材料的库存调配、财务手续、申请海关免费放行货物的整个流程,分两批48小时内到达客户仓库。第一批材料从收到客户需求,到货物到达客户工厂的时间仅花费28小时,完成了一场跨越1300公里的时间赛跑。
As the pandemic prevention and control is still salient, there has been a high demand in epidemic prevention equipment.
In another case, Covestro fulfilled a rush order for polycarbonate and thermoplastic polyurethanes from Hikvision, which needed the materials to produce infrared thermometers, which are in huge demand. During the emergency, staff from different departments worked together and managed in four hours to allocate the inventory, go through the financial procedures and complete the application for zero customs clearance fee. The first batch of supplies was delivered to the client in only 28 hours, including the delivery distance of 1,300 km.
"这一速度与上海市对企业生产的支持是分不开的。"科思创中国区总裁雷焕丽说,疫情发生后,上海市政府出台了28条政策扶持企业、上海交通部门推出了"长三角货运通"等便利措施、上海化工区管委会第一时间帮助公司协调了物流仓储人员的到岗问题。"这对我们支持抗'疫'和正常生产都是很大的支持。"
"Such speed is inseparable from Shanghai's support for enterprises," said Holly Lei, president of Covestro China. After the epidemic broke out, the Shanghai government issued 28 policy measures to support businesses; the transportation authority also rolled out several measures to facilitate freight transportation in the Yangtze River Delta; and the Shanghai Chemical Industrial Park also offered help to the company to solve its logistics and warehousing personnel shortage. "All these have been a strong boost for us to fight against the epidemic and resume our normal production."
雷焕丽举例说,科思创的业务开展涉及自身及多家上下游企业上千名物流操作人员和司机,公司的物流和安全部门需要收集核查这些人员的健康申明,为他们办理非常时期的园区和工厂准入证,工作量巨大。但在化工区管委会的支持和指导下,相关核查工作开展得很顺利,上千名关联工作人员很快得到了准入许可,保证了科思创基地持续生产运作和运输畅通。
According to Lei, Covestro's business involves thousands of logistics operators and drivers, including those working for its upstream and downstream companies. Amid the epidemic, all those personnel's health declarations had to be collected and verified, a demanding job for Covestro's logistics and security departments. Thanks to the administration committee of the Shanghai Chemical Industrial Park, thousands of personnel's entry permissions could be dealt with immediately and smoothly.
2月10日,和众多在华跨国企业一样,科思创也正式拉开了复工帷幕,科思创基地从春节模式转为了正常生产模式,以保证相关应用于防护物资的原材料供应。但刚开始时,由于物流不畅,部分原材料以及罐装桶出现短缺,生产进度受到一定程度的影响。为此,生产部门与公司供应链管理部门多次协商,根据实际情况调整了五六次生产计划,在保证客户需求前提下,部分生产线实施降量生产,实现双向保证。
On February 10, Covestro restarted operation and production like many other foreign companies in Shanghai. However, due to some logistics issues, there was some shortage in raw materials and barrels, somewhat affecting the production progress. As such, the production plan was modified five to six times, reducing production volumes on part of the production lines while ensuring customer demands.
此外,由于有返沪同事需要居家隔离,人员有时也会紧缺。上海一体化基地涂料原材料生产线副班长诸慧峰说,为保证正常生产的最低配置人数,他所在的部门将常日班维修队伍作为补充人员,还从四个班组各抽调3人,组成替补预备班。有了这样的人性化排班制度,万一班组中出现隔离病例,可随时组成一个替补班组。基地还设立了隔离房,以备上班期间员工出现特殊身体状况的不时之需,随时隔离救治。诸慧峰表示:"这些都是当前非常时期所做的尝试与努力。我们一直相信办法总比困难多。"
At CISS, a shortage of staff happens sometimes because returning employees to Shanghai need to undergo home quarantine. To ensure the minimum number of people in normal production are available, according to Zhu Huifeng, deputy team leader of the coating raw material production line, the daily maintenance team in his department act as backup for the production team. Each production team has also selected three members to form a backup team. Once there is one member under quarantine, backups will be on duty right away. Special rooms have also been prepared for employees who feel uncomfortable at work. "These are all attempts and efforts to make resuming work as smooth as possible in this special time period. We always believe that there are always more solutions than difficulties," said Zhu.
为确保连续生产,基地还第一时间成立多个应急响应微信群,并要求员工加入企业微信,及时了解公司各项要求,做到信息的及时传达与畅通汇报。
In order to ensure continuous production, emergency response policies have been delivered to employees in a timely manner through digital channels.
中国是科思创全球第二大市场,占科思创全球五分之一的销售额。目前,科思创在上海、广州、深圳、青岛、天津的生产基地已经全面复产,上海一体化基地亦已实现全员复工。雷焕丽表示:"2020年对企业发展而言充满挑战,但我们看到中国各地政府都在通过各种举措控制疫情,我们相信困难是暂时的。科思创对中国的投资是长期的,也看到市场对高科技塑料的长期需求,所以对中国市场的信心和承诺不会改变。"
Accounting for around one fifth of Covestro's global sales, China is the second largest market for the world-leading supplier of high-tech polymer materials. So far, the company's production bases in Shanghai, Guangzhou, Shenzhen, Qingdao, and Tianjin have fully resumed production, and all staff at CISS has been back to their posts. "2020 is full of challenges for enterprises, but we see local governments in China are controlling the epidemic through various measures. We believe that the difficulties are temporary. Covestro's investment in China is long-term. We have also seen a long-term market demand for high-tech plastics, so our confidence and commitment to the Chinese market will not change," added Holly Lei.